Featured article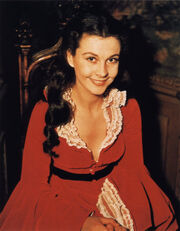 Scarlett O'Hara (full name Katie Scarlett O'Hara Hamilton Kennedy Butler) is the protagonist in Margaret Mitchell's 1936 novel Gone With the Wind and in the later film of the same name. She is also the main character in the 1970 musical Scarlett, the 1991 book Scarlett, and the television mini-series, Scarlett. During early drafts of the original novel, Mitchell referred to her heroine as "Pansy", and did not decide on the name "Scarlett" until just before the novel went to print. (more...)
Main Series

Sequels and Other Titles
Polls
Who is your favorite character?

 
News
November 10th, 2008
The front page gets a complete makeover.
November 2nd, 2008
Gone With the Wind Wiki is approved by Wikia staff and the domain is created.
Ad blocker interference detected!
Wikia is a free-to-use site that makes money from advertising. We have a modified experience for viewers using ad blockers

Wikia is not accessible if you've made further modifications. Remove the custom ad blocker rule(s) and the page will load as expected.